JHAS Metallic Cable Lock Seals (CCL-101) for applications on Jumbo Bags, Container Doors, Containers, Vehicle Doors, Latches etc.
Available as
Standard Item from Stock
Preprinted & Prenumbered
Custom Ordered Item
Printed & Numbered
Material
Body: ZAMAK (Zinc)
Cable: Galvanised / Stainless Steel
Size
Height: 14.5mm
Lenght: 24.3mm
Printing
Laser Marking available for Cable
Seals One line with customer Logo plus one line of consecutive numbers up to 8 digits.
Packaging
100 Locks in a Polybag
1000 seals to a carton
Use
Pull up tight by hand and remove with cable cutter.
---
Push Fit mechanism
High Tensile Strength Wire Rope of 1.5 mm & 2.0 mm & 3.5 mm diameter
Available in length starting from 150 mm to any length
Various Colours Available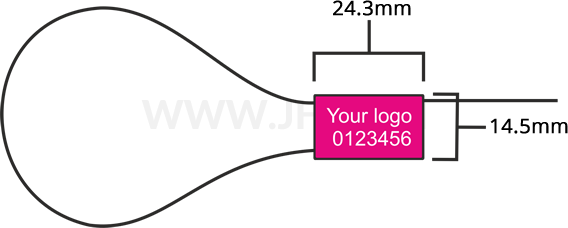 METALLIC CABLE LOCK SEALS (CCL-101)
---
---