JHAS Plastic Seals Anchor Type Dual Lock Without wire (DL-PPW) are ideal for tamper proof sealing applications on Drums, Chemical Tanks etc.
Available as
Standard Item from Stock
Preprinted & Prenumbered
Custom Ordered Item
Printed & Numbered
Material
Body: Polypropylene
Size
Please check the technical drawing
Printing
Logo:
Laser Marked/ Embossed in High Relief
Serial Nos.:
Laser marked
Packaging
100 serially arranged in a poly bag
1000 seals to a carton
Use
Pull wire through the object to be sealed and holes on the male part, thereafter pressing male part in to female parts twice attains complete locking. Cut extra wire using cable cutters.
---
Plastic seal for use with wire
Double Lock hand press seal
Laser marked serial nos. upto 7 digits
Your Logo in high relief / embossed / moulded / laser marked
Can be used with any length of wire, thread, ribbon etc.
Various colours available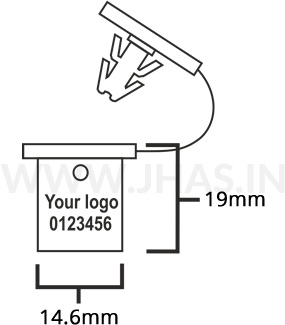 Plastic Seals Anchor Type Dual Lock Without wire (DL-PPW)
---
---